Honors and Awards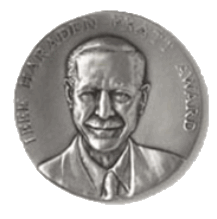 2013 IEEE HARADEN PRATT AWARD
The IEEE Haraden Pratt Award was established in 1971 in honor of Haraden Pratt, then Director Emeritus of IEEE, who had given dedicated and distinguished service. As President, Treasurer, and then Secretary for 23 consecutive years, his service on the Board of Directors, including that of Director Emeritus, totaled 31 years.
Citation:
For vision and leadership in improving IEEE operations and governance, and for building a stronger foundation for IEEE's strategic future.
---
2013 SPIE EDUCATOR AWARD
The SPIE Educator Award is given annually in recognition of outstanding contributions to optics education by an SPIE instructor or an educator in the field.
Citation:
In recognition of the development of a comprehensive criteria for optical engineering in the undergraduate college curriculum and overseeing the implementation of ABET requirements used for accreditation of undergraduate (BS) degrees in optical engineering.
---
2009 IEEE EAB MERITORIOUS SERVICE AWARD
Recognizes IEEE members who are past members of the EAB or current or past members of EAB Committees for outstanding and sustained service to the aims and objectives of the IEEE Educational Activities Board.
Citation:
For exemplary leadership and service to engineering education in the formation of the engineering programs at the National Military Academy of Afghanistan.
---
2008 OSA ROBERT E. HOPKINS LEADERSHIP AWARD
The Robert E. Hopkins Award recognizes an individual or group who has had a significant impact on the global optics and photonics community or an individual or group from the optics and photonics community who has had a significant impact on society as a whole stemming from non-research oriented activities.
Citation:
For leadership and vision in furthering optics education and humanitarian purposes, including founding the first engineering school in Afghanistan, and his contributions to the global fight against terrorism as expressed in his activities in the Joint Improvised Explosive Device Defeat Organization.
---
ADDITIONAL HONORS & AWARDS
Fellow - IEEE (2012)
Fellow - SPIE (2003)
Fellow - OSA (2000)